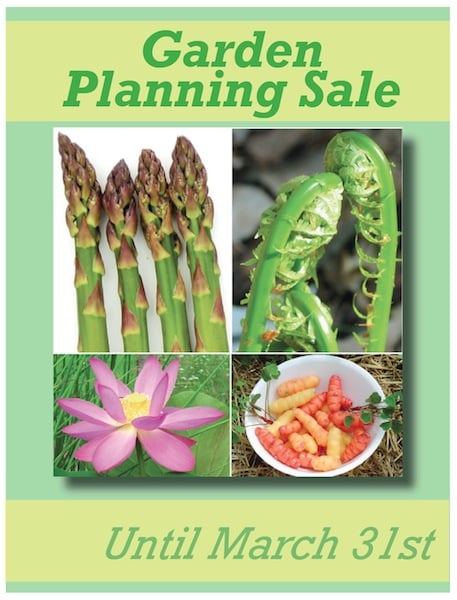 Perennial vegetables are a food gardener's dream. Plant them once, treat them well, and they'll keep feeding you year after year.
If you're looking for some new crops to liven up your garden and your palate, give perennials a chance. You'll have plants you never dreamed could be dinner. We've included below some perennial inspired projects to get you started! 
In cased you missed our previous "Garden Series" projects you can take a look here and here. Everything from building fertile soil, planning the best garden, starting seedlings and crop selection – we have you covered.
Discount codes do not combine with other offers—our books already on sale for example. Free shipping for orders $100 or more is applied after the discount is applied. (U.S. Orders Only). 
---
VIDEO: Four Perennials Perfect for Shady Spots

Eric Toensmeier is the reigning expert on these easy-to-grow crops, and his new DVD takes you on a plant-by-plant tour. In this video, Eric introduces four perennial crops that do well in shady spots. Watch and learn more about these versatile veggies.  Plant it »»
Building Your Backyard Permaculture Paradise
As you look out on your snow-covered (or just barren) backyard, here is how Eric Toensmeier and Jonathan Bates approached those initial phases of transformation–along with their site designs.
We hope this provides you with plenty of spring planting ideas and inspiration for the coming gardening season. 
Plan it 
»
»
---
6 Reasons Why Perennials Are the Best Bang for Your Buck
If you've ever debated whether perennial plants are right for your landscape, author Ben Falk is here to help.
Plant it »»
---
How to Graft the Perfect Tree
Trees are the ultimate perennial and with care will continue to produce for years and even decades.
Learning the art and science of grafting fruit trees can give an old tree a new life, or perhaps give some continuing life to a variety you love.
Learn it »»
---
~ ~ Garden Savings: 25% Off  ~ ~
Retail $59.95

Sale: $44.96

Retail $19.95

Sale: $14.96

Retail $

40.00

Sale: $

30.00

Retail $29.95

Sale $22.46

Retail $40.00

Sale $

30.00
---
Discount codes do not combine with other offers—our books
already on sale for example. Free shipping for orders $100 or
more is applied after the discount is applied. (U.S. Orders Only)
---