Declining sperm count?  Forget about it, declares the Science section of 
The New York Times
. Until this news blast, a great barrage of scientific studies, mostly from the U.S. and Denmark, had warned about a broad pattern of male reproductive troubles.  Studies concluded that sperm counts fell by nearly half between 1938 and 1990.  Other data tracked a worldwide decline in the ratio of male to female births since 1950.  Boys have increasingly been found to suffer from a complex of genital abnormalities, from a deformity of the penis to undersize and undescended testicles, as well as rising rates of testicular cancer.  Tests have shown lower sperm quality in the agricultural Midwest.   Couples are experiencing more and more trouble conceiving. Scientists have repeatedly suggested that these troubles arise from the sharp rise over the past two generations of environmental toxins that saturate our everyday lives, especially those chemicals that disrupt our hormones (generally called "endocrine disruptors"), from pesticides on our strawberries to BPA (bisphenol-A) in our baby bottles. Yet, in June this year, as the
NY Times
section reported, Danish researchers' data appeared on a Danish website showing no evidence of sperm count decline during the past 15 years. Seizing upon this data, one media outlet to the next, and one industry spokesperson to the other, have declared, 'AHAH, we told you, there's nothing wrong with pesticides or BPA or other such chemicals.' But wait.  The new data did
not
contradict the fact that sperm counts are low.  Indeed, the data confirms very low sperm counts in young Danish men, so low that many are likely to have impaired fecundity.  The data just inferred that, perhaps, the count is not falling further.  As Dr. Shanna Swan, one of the leading U.S. researchers in this field points out, "one would not expect any trend to continue indefinitely (particularly something so critical for species survival). Of course they must level off at some point."  And, as Dr John Peterson Myers, founder of Environmental Health Science, adds, "Public health measures were implemented in Denmark during those past years in response to the poor condition of Danish sperm" –another potential clue to why there was no further decline.
Furthermore, the material that was published on the web is not a report at all.  It is, rather, a leaking of some data from a study of Danish military recruits, started in 1991 and still in progress. The data cannot be used to refute changes that took place before the Danes began studying these young men.  These data also do not refute the fact that there are dramatic differences in sperm count from one region to another, nor the prevailing hypothesis is that this geographic variation is highly likely the result of an environmental component or the finding that male children increasingly suffer from a web of interrelated problems afflicting their reproductive tract. The section carrying this misleading article is the same NY Times Science section that, in 2007, proclaimed Rachel Carson's book, Silent Spring, to be "
a hodgepodge of science and junk science, dubious statistics and anecdotes
." In witnessing this sham debate, we are left to wonder: Don't our children have the right to science that is not influenced by vested interests or ideology?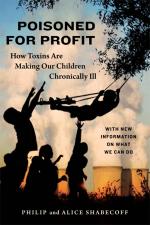 Alice Shabecoff is a freelance journalist focusing on family and consumer topics, and co-author of the recently published book Poisoned for Profit
(Chelsea Green). Her work has appeared in The New York Times, Washington Post, Christian Science Monitor
, and
International Herald Tribune
, among other publications. She was executive director of the National Consumers League, the country's oldest consumer organization, and executive director of the national nonprofit Community Information Exchange.
---