I came over to Japan this week for a quick trip to strategize with my partner and his team for this coming year's work. He booked an onsen retreat about three hours north of Tokyo way up in the mountains. An onsen is a natural hot springs resort. The surprise is that they picked one of about 40 organic and sustainable
onsens
, part of an allied group of small, 'secret' spas around Japan. The
shodō
script for The Committee to Protect the Hidden Hot Springs of Japan is written on the lantern in the picture below. (I'd tell you exactly where it is located, but then I'd have to kill you.) The green movement has been growing steadily here in Japan for many years now. We can find organic groceries, organic farms and restaurants, and all the usual domestic and imported LOHAS-style household and personal care goods. Kyoto has become the Portland, Oregon or Burlington, Vermont of Japan. My friend and former colleague, Jens Jensen , has written several books on community organic gardening in Japan. He also works for the Danish embassy here. But this is the first that I've heard about an onsen attached to its own organic farm. This particular place is located on an irregular, steep sided and narrow valley. It's heavily wooded with sheer cliffs, which explains where the influence for those classical Japanese scroll paintings comes from. Nevertheless, the beauty is in the fact that this resort is almost entirely self-sufficient. Except for electricity and some fuel oil for heating, everything comes from the farm – including livestock feed and building materials. It's also a balanced farm with mixed crops and farm animals. But instead of the European cows and pigs we find in the US, here its native wild bore, deer, ducks and brook trout. Sure, these animals are caged, but they eat a fairly normal diet. The deer feed on grasses. The chickens are housed outside and peck around for their meals. Even the trout are raised in ponds large enough to attract flies that compose much of their diet. Everything is prepared and cooked right here, including the Japanese onions the area is famous for. It must be a very labor-intensive operation, but I was surprised to hear that just eight people work here full time. The gardens are tended by 'farm consultants' who come in from the local village and just work during the growing season. In the winter, the staff settle into a routine of serving the guests. So, here's a little share by way of a photo essay. Enjoy.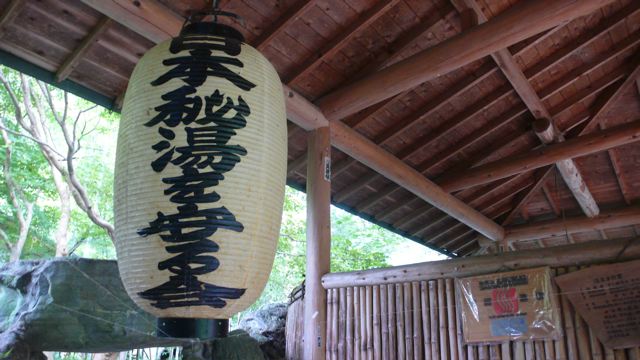 Well, there actually is a river runs through it.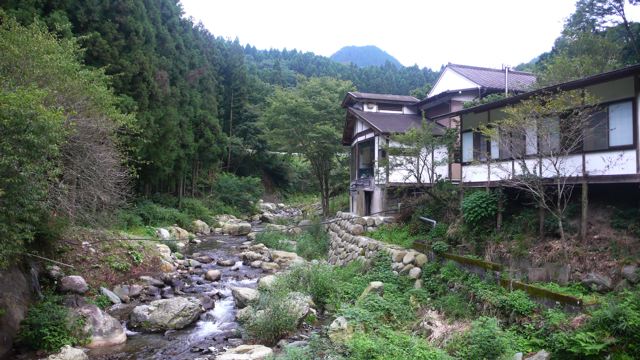 Little streams run everywhere, diverted from the river running along the property. The
onsen's
name means 'clear current'.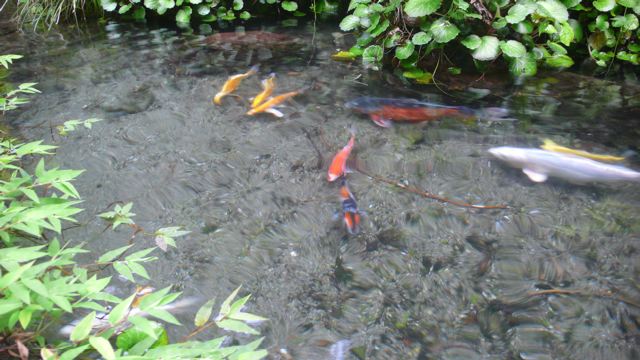 These carp are decorative, but are also dinner.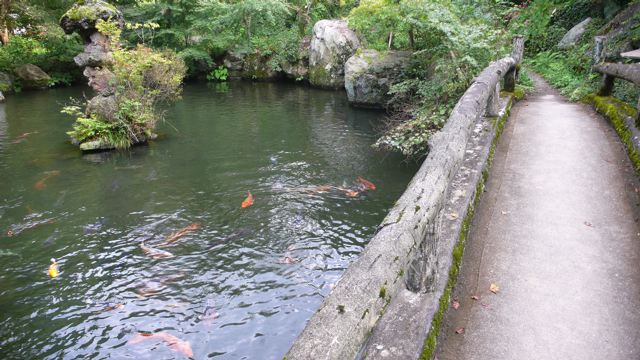 Of course, all the rock formations and gardens are manmade, but done long ago in a style that honors nature.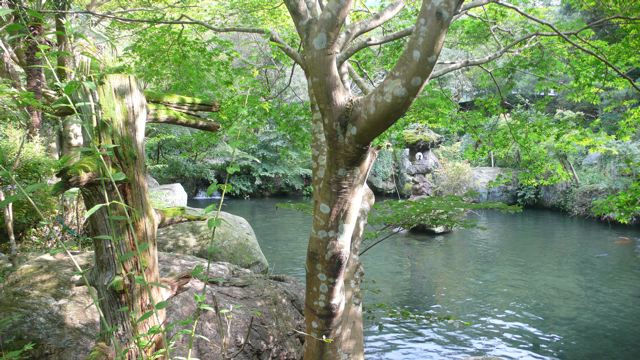 The rock archway leading to the men's
onsen
bath, called
rotenburo
.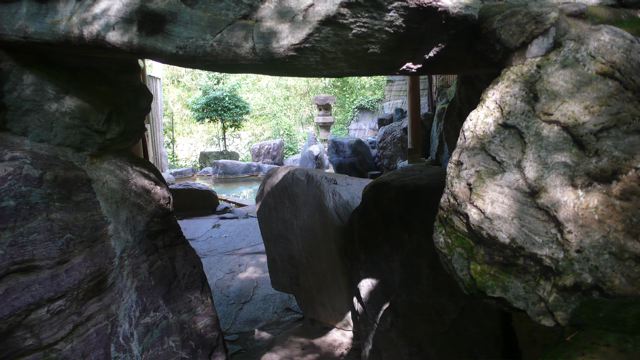 Gives me ideas for our backyard. Hum?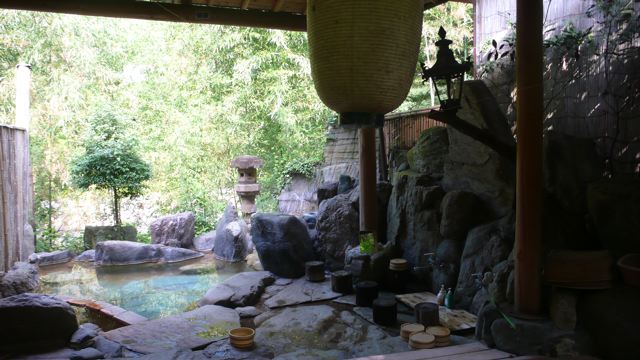 Native plants were in bloom all around the edges of the forest.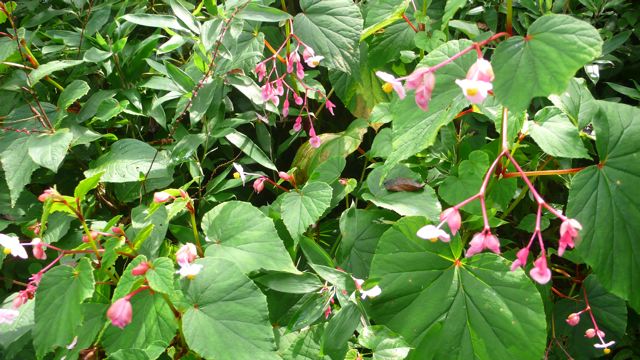 The funky lobby. This isn't a slick tourist spot. It's a bit off the beaten track and is run like a farm, which gives it more charm than the more commercial
onsen
retreats.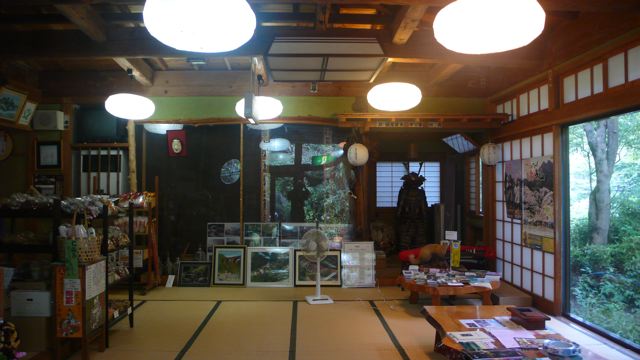 There are four very large fish ponds on the property where they raise brook trout . . . also for dinner, also for breakfast.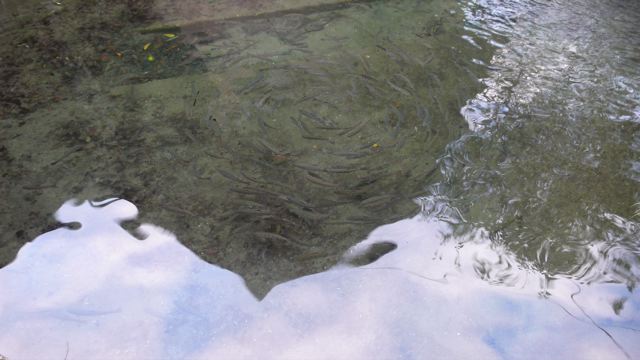 We were told that Bambi and his pals are pets.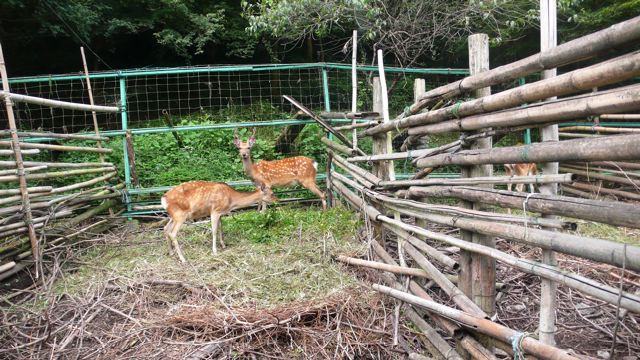 There was deer on the menu, but we were told that it was provided by local hunters.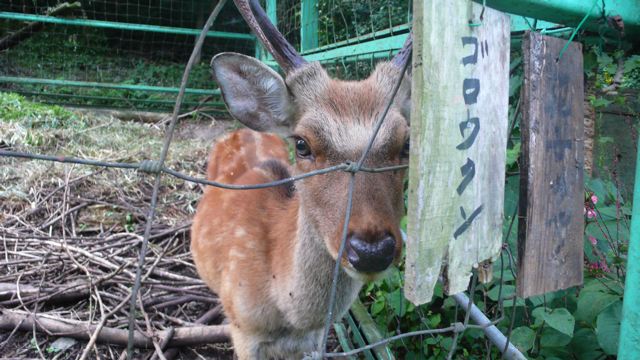 The buildings are made mostly from local materials using local carpenters in the traditional Japanese style.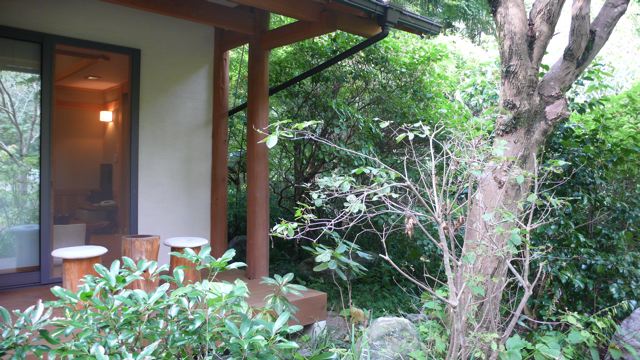 I was really fascinated with the construction details. No nails. No screws.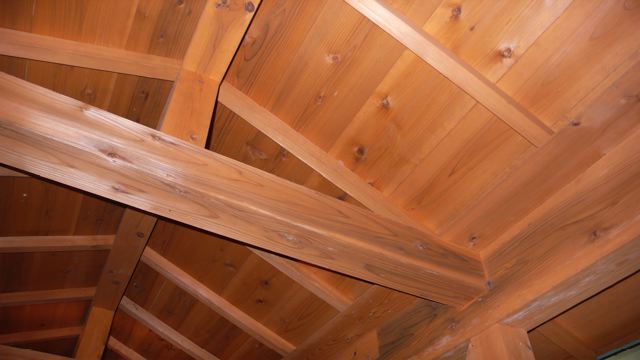 This is great. They use a tree trunk to hold up the roof during construction, and then chop it off when done.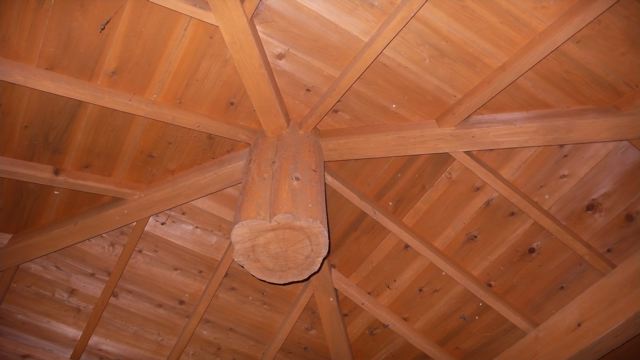 The land is clean enough to support frogs.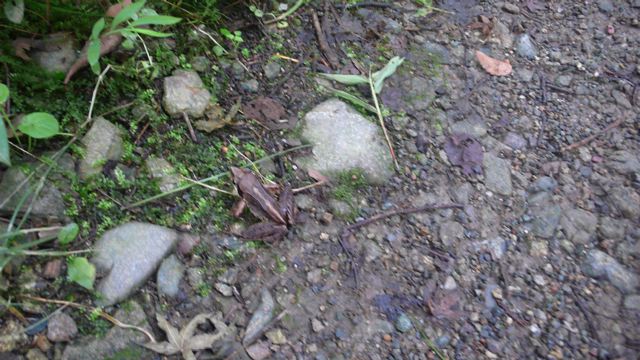 All the food served here is grown or raised on the property. It's all organic.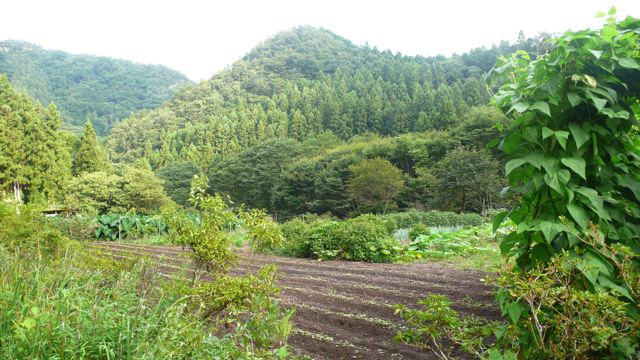 Things grow like crazy in the summer, but it will all be covered in snow in about two months.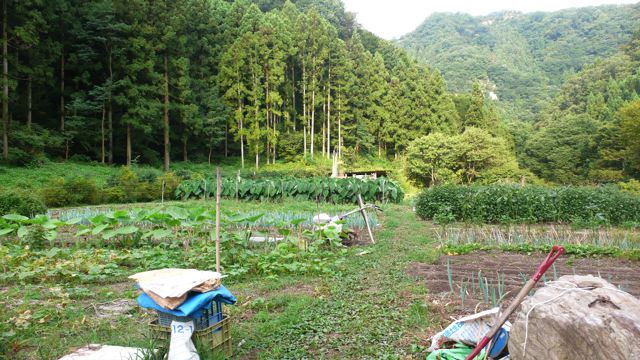 We asked them about pests. They make a concoction of ginger,
shochu
, vinegar, garlic and red peppers that is then diluted and sprayed on the plants.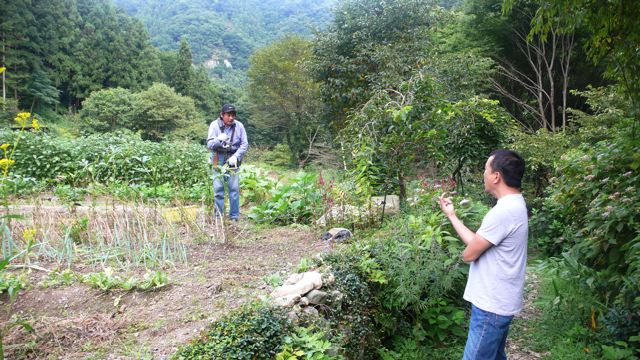 The insects are repelled but not killed. They also alternate rows with garlic and pepper plants.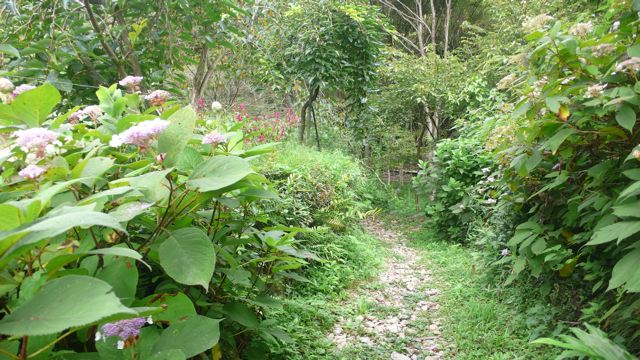 They keep a pen with wild bore . . . also dinner.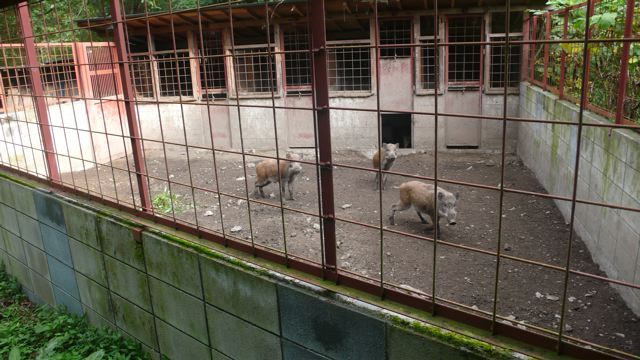 The shed way out back. Is this where the evil deed is done?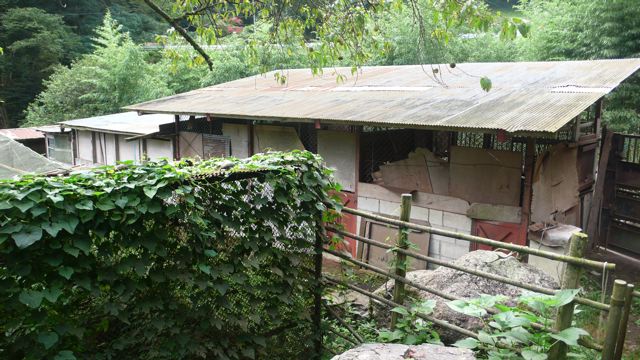 These lanes covered in crushed rock lead to the various fields and stock pens.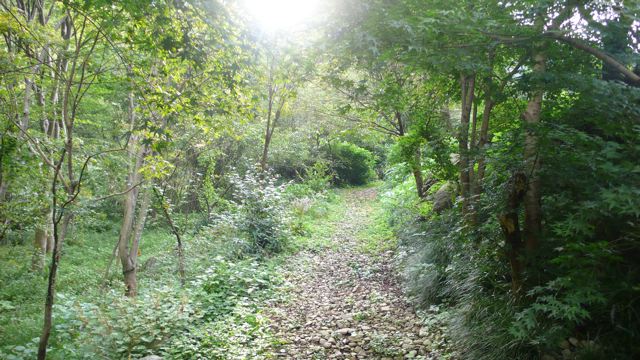 They are famous for their onions in this area of Japan.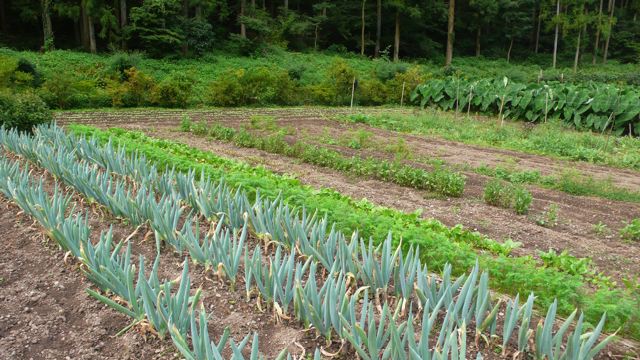 The buildings amble across the landscape leading to one discovery after another.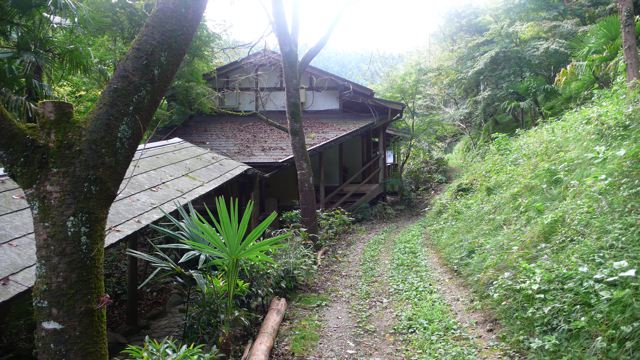 Thermal panels to help heat the
onsen
water, which is only luke warm at this place.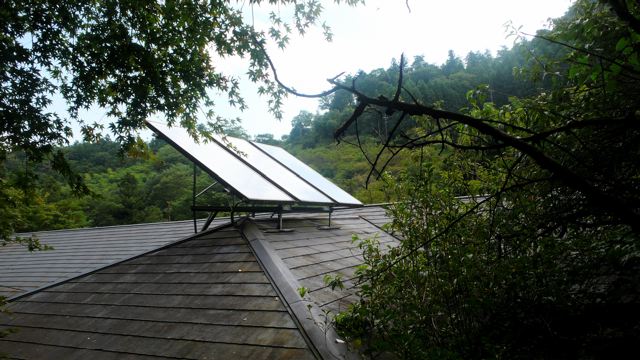 Chickens and ducks are raised on the property. It's caged all around to keep predatory critters out.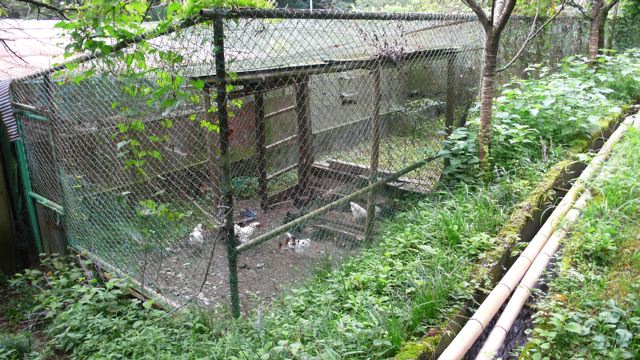 No dryer. Everything hung outside to dry.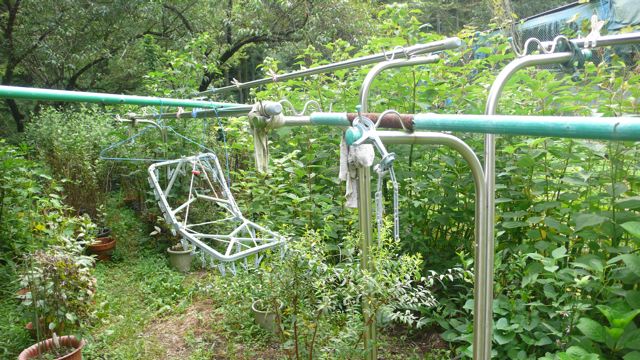 Inside one of the original buildings with its first two-person
ofuro
soak.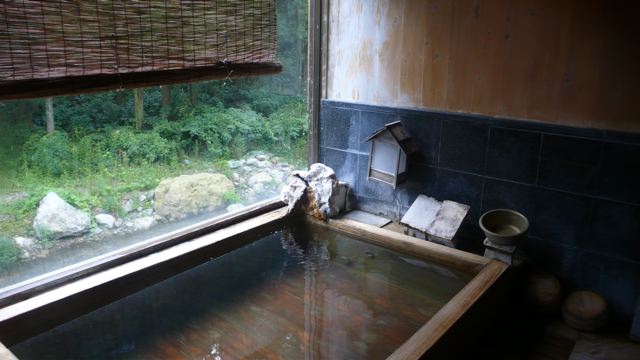 Their one-person electric utility vehicle.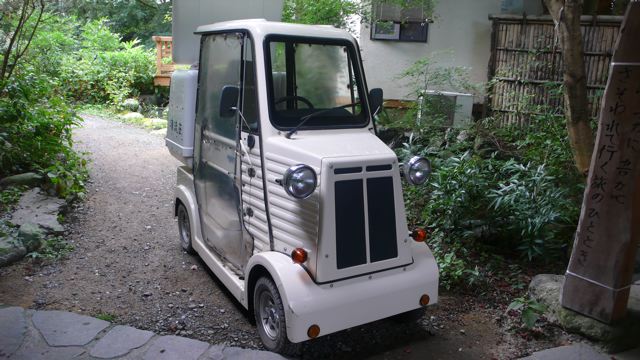 Breakfast. Everything is from the farm except for the rice, which is grown nearby.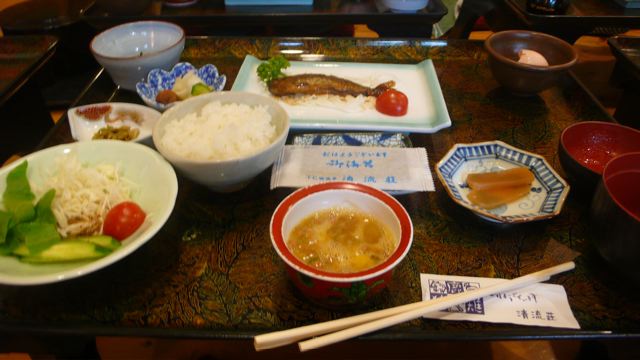 ---