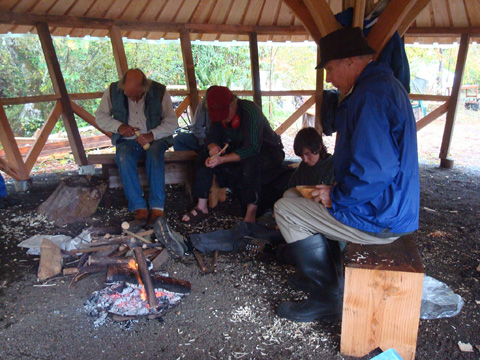 As part of our yurt-building adventure with
Bill Coperthwaite
, we spent two days carving: one day for spoons, another for bowls. There's no more beautiful—nor useful shape than the full, swelling hollow of a well-designed and well-made spoon.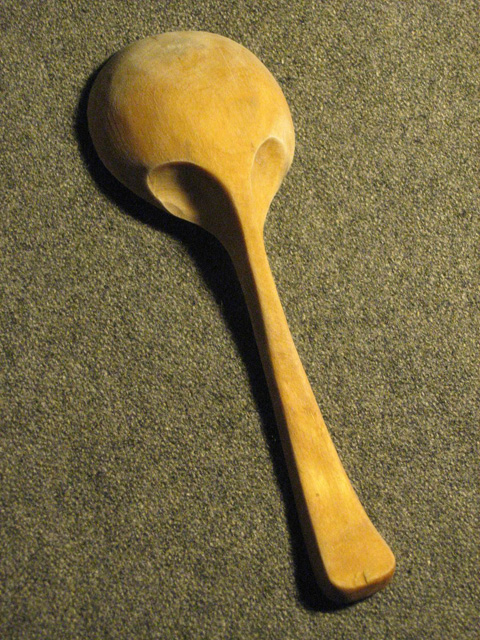 Note the lovely detail where handle meets bowl on the small serving spoon that Bill left with us—his contribution to spoon design. For bowl carving, Bill invented this simple jig that sits on a bench to hold your bowl-blank, and greatly eases the job of hand-carving a bowl. He has also adapted the traditional Swedish pulling harness for the crooked knife, reducing it to a cord and a toggle handle with which to pull the knife.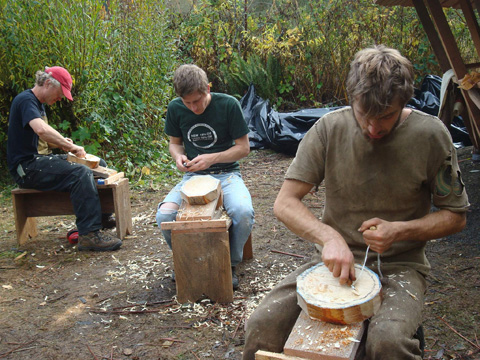 Just before X-mas, a friend gave me a book on Shaker hand-craft: Hands to Work and Hearts to God. I saw this one-piece, wooden grain shovel, and wanted to make one just like it—except that we don't grow enough grain to warrant making—much less storing it.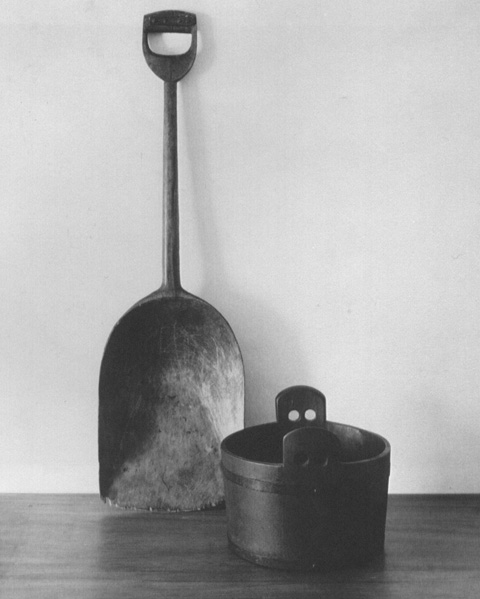 On the next page was a dustpan. The two images clicked against each other, amidst chips and excitement from a couple of bowls and spoons I'd made in the aftermath of the yurt. So I decided to make this maple dustpan as an X-mas present for Hannah. A side-benefit was getting rid of the butt-ugly plastic pan we endured every time we swept. A neighbor provided a piece of green maple firewood, which had some lovely bird's-eyes in it. Now I wish I had copied the high, rounded, form of the Shaker shovel, but it's lovely and light, a pleasure to use, and durable.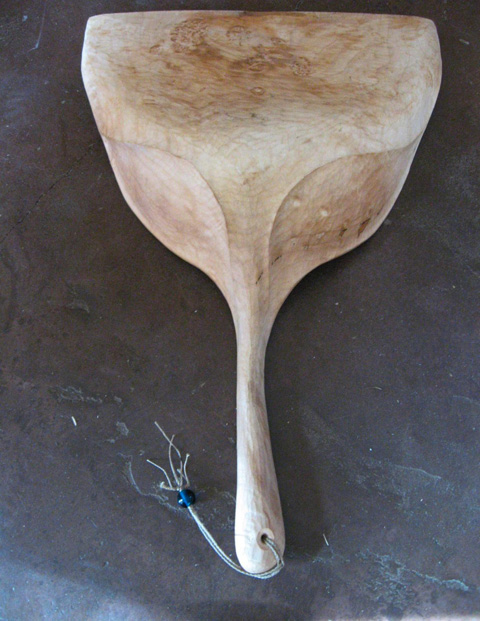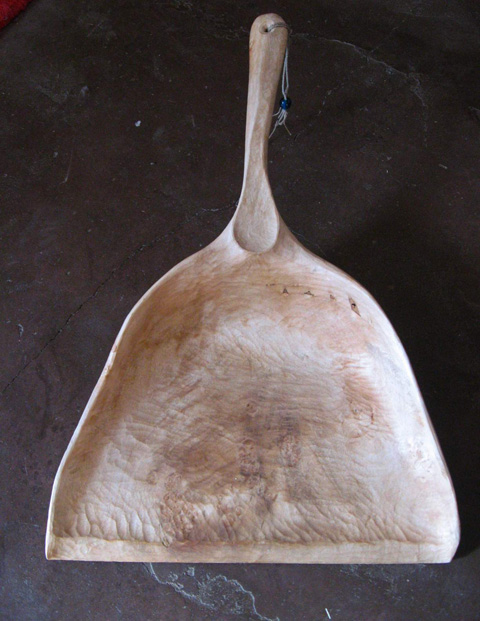 I roughed it out with a chainsaw and this adze (from Kestrel tool on Lopez Island, in WA), and finished it with crooked knives, one from kestrel, the other from Pinewood forge in MN — there are interesting design differences between the two knives, but both are just wonderfully beautiful tools (both visible at left in the spoons photo that follows).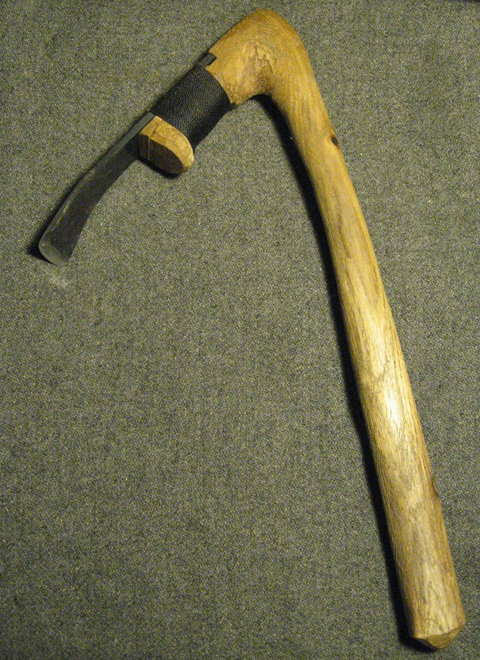 Knives and adze are the best hand tools I've got (except, maybe, for my favorite spoon and my Austrian scythe blades). The knives work better than any gouge, and require no mallet, no workbench. The adze is so sharp, light, and so accurate that a "roughed out" piece can be very close to finished. Since then, I've been carving spoons, bowls, and sticks of various kinds, inspired not only by Bill, but also by aeons of sculpture by all my ancestors who lived by and for beauty, and for whom work was merely a way of participating in what was, and is, both universal and useful—divinely useless, and essential. Particular inspiration this winter came in the form of two books: Patterns that Connect, by Schuster and Carpenter, and Baule: African Art, Western Eyes, by Susan Vogel. The pattern book is just that: a thousand drawings of patterns and patterned objects all representing, according to the authors, a universal human story about who we are and were we come from. It makes far more sense than most "art" books I've ever read (it is also a summary of a previous work that runs to 7,000 illustrations in 12 volumes). Both titles provide abundant evidence of and inspiration for the obvious argument that "art" should not mean things for sale, but a way to live in creative harmony with a universe that spawns endless beauty. Beauty as gift makes better sense than beauty as commodity, but also makes it hard to hold onto a spoon long enough to photograph it… Here's a collection of works-in-progress.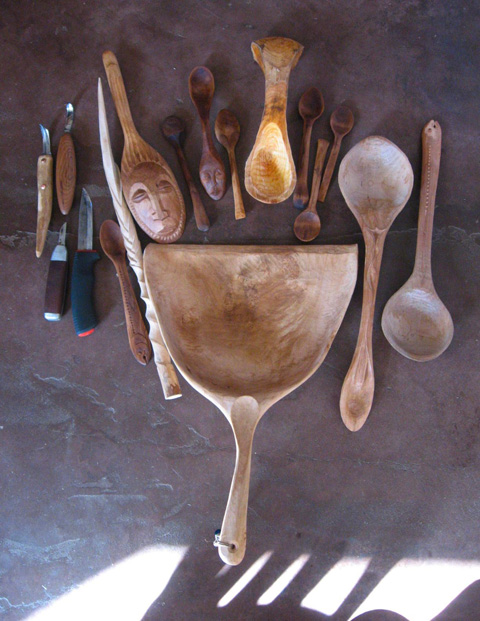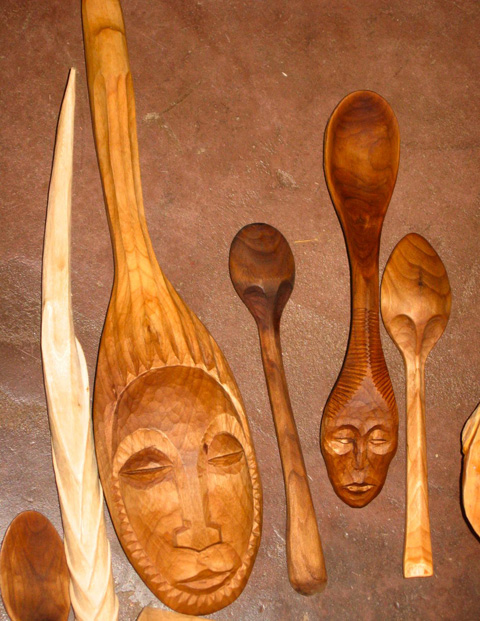 and a poem written during my visit to Bill's home, Dickinson's Reach, in northern Maine. Everything turns, the sun rises. I fill a wooden bowl with oats and fruit And with a wooden spoon, empty it again, Every day. Which master makes us lay down spoon and bowl for pen and sword?
---