This will be the 29th November I have lived in my passive solar home.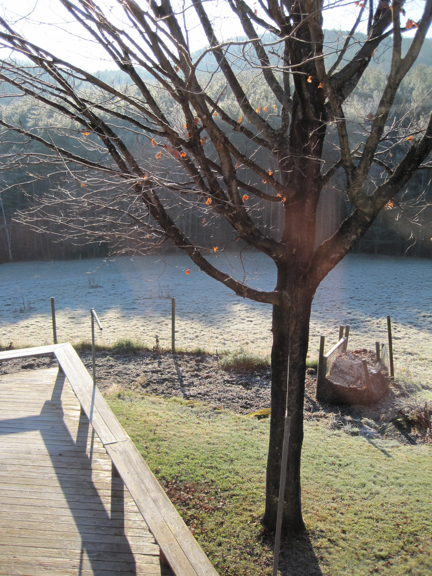 The picture was taken at 8:00 am, November 19, 2009. The outside temperature was 24 degrees and the expected high for the day is predicted to be in the mid forties. You can see from the picture that we had a hard frost the night before. Since my solar home faces true south, the sun is almost rising at the position it will be in on the shortest day of the year – Dec 21.
There will be no need to start my woodstove today as the low angle of the winter sun will quickly heat my home and provide excess solar energy to be stored in the Solar-Slab for evening use after the sun goes down. Solar-Slab is a name I coined for my formally patented method of storing heat in the base of a solar home. The Solar-Slab consists of an array of concrete blocks positioned to allow air to pass through them. The blocks are then capped with concrete to make a ventilated concrete heat storage unit. The Solar-Slab then acts like a battery that takes on a charge and then gives the electricity "back" when needed. In the case of the Solar-Slab heat is stored instead of electricity. How this all works is described in my book The Passive Solar House (Chelsea Green Publishing, 1997).
The response from my book has been very pleasing to me. It has done exactly what I hoped. It has enabled people from all over the country to realize the dream of owning and living in a solar home. There are now hundreds of solar home owners that will have the same gratifying morning experience I had today.

James Kachadorian is a civil engineer with degrees from the Massachusetts Institute of Technology (M.I.T) and Worcester Polytechnic Institute. He is the founder of Green Mountain Homes, a company which gained national recognition as the first provider of innovative, manufactured solar homes. He has built more than 300 passive solar homes. Kachadorian resides in Woodstock, Vermont.
---