As you can imagine if you've ever lived in Small Town America, it's tough making your way without a car—especially in New England, with its five-month, snow-dumping winters. And in Vermont, just to keep us on our toes, we have the added perks of dirt roads, infrequent plowing, inconsiderate and/or uninformed drivers, and inadequate street lighting. Not to mention the occasional lung-busting hill.
Still, my partner and I managed. Sure, half our morning commute was spent trudging over a gravel-covered rail yard, and sure, in winter the snow had a tendency to pile up 18 inches high over that same unplowed (and unlit) gravel rail yard, but we persevered. Vermont would not break us. Bike Life! One Less Car!
Alas, we moved, and one great, merciless hill did us in. Suffice it to say, this was the mother of steep, dangerous hills, which—though fun to fly down in the morning—was not so much fun climbing back up at night. Three winters (her) and two winters (me) we lasted before finally breaking down and buying an automobile. You win this round, Small Town America!
Still, now that spring is springing, trees are blooming, and cardinals are on the wing, I'm reminded again that oh yeah—Vermont is frakkin' beautiful! And I'm itching to get back on my bike.
---
Before settling into my cozy little nest in White River Junction, Vermont, I lived in Brooklyn, New York for five years of pure carless bliss (well…bliss, tempered with the thrill of dodging homicidal cab drivers). I was even a bike courier for a little while there, though I don't think it suited me. (I was really bad at it.) For most of that time, I rode second-hand bikes that I fixed up and serviced myself; usually bikes in the 20–30-year old range. That didn't last.
After my second bike frame busted, tearing up my ankle and putting me on crutches for six weeks, I vowed never to buy a used bike again. I went out and bought the shiniest aluminum-frame mountain bike I could afford, and the love affair with vintage bicycles was over…for a while.
You see, the thing about Small Town America is that old bikes, well—they just aren't that in demand. I bought a perfectly usable Huffy 10-speed for $10 at a thrift store once. It just needed some minor repairs. And my current ride—Nessie, I call her—only set me back $25. How could I resist?
At the time, I didn't know anything about Sekine bicycles, other than they look super-cool, with a rhinestone in the head badge and the name "Sekine" in huge letters around the gear guard.
One Google search later, I found out the Sekine is a fairly high-quality mid-range Canadian bicycle, manufactured starting around the mid-1970s at a time when import tariffs were high and the domestic bicycle market was able to flourish, albeit briefly.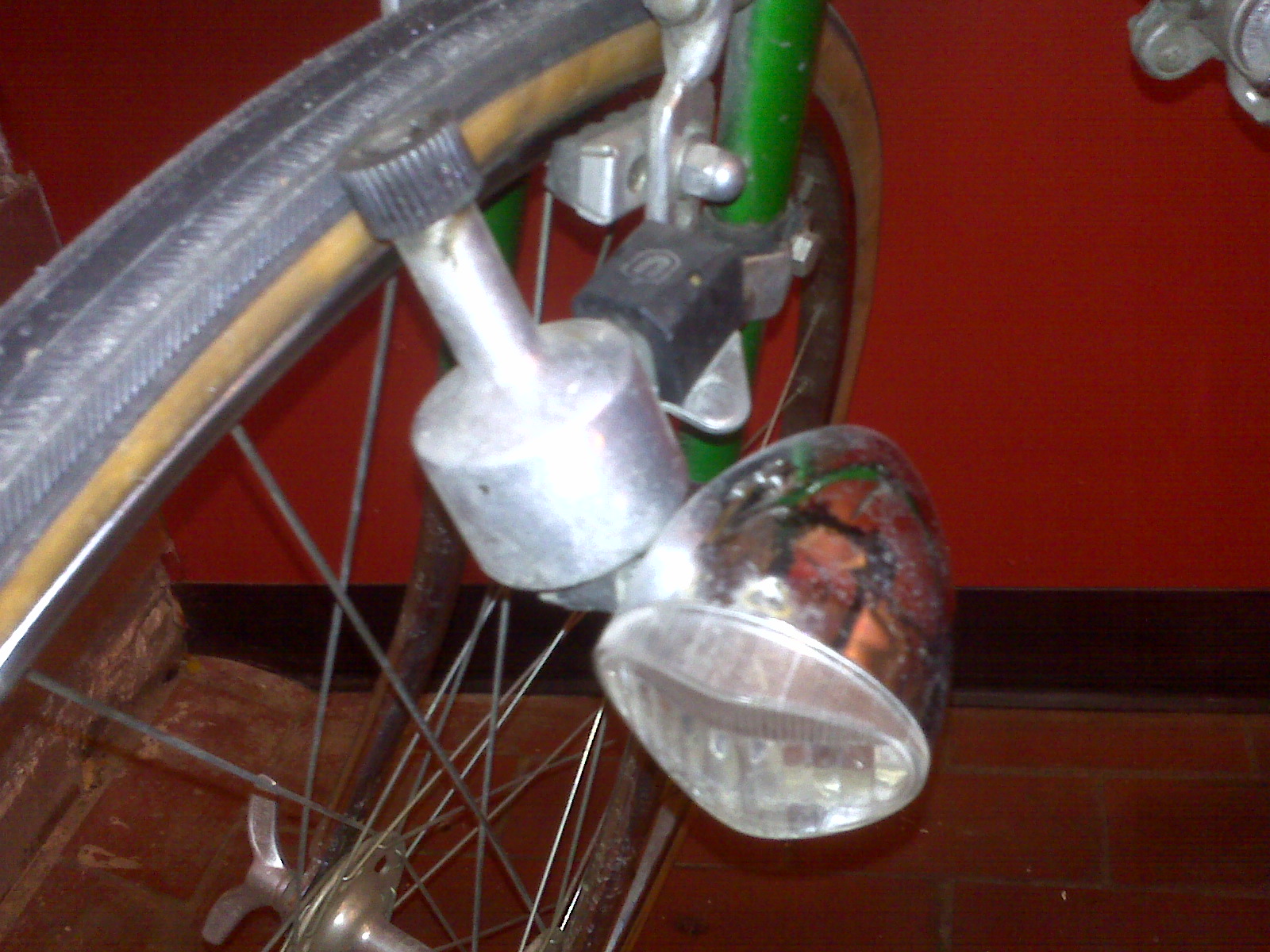 Add to its obvious quality one charming little accessory and I was sold: a not-terribly-efficient (but totally sustainable!) friction-powered headlamp. Sure, the minute your wheel stops turning you become invisible to drivers again, and the initial resistance is a little annoying, but just think: you never have to buy batteries!
This week is Bike to Work Week, and I've got no more excuses to keep Nessie in mothballs. She needs a new front wheel (I hope it won't be too hard to transplant those awesome giant wingnuts that are on there now), some chain grease, and some tweaks in the gear shifting and brake lines, but her frame is solid and if I treat her right I'm sure she'll do the same for me.
Fingers crossed.
Dennis Pacheco is the Web Editorial Assistant and cartoonist-in-residence at Chelsea Green. He attended the School of Visual Arts in New York, where he majored in cartooning. He lives in downtown White River Junction with his partner, Robyn, and their cat, Marty McFly.
---